This Debate on Equality will take place on Wednesday February 2nd, 6-7:30 pm (CET). It will be dedicated to the presentation of the book « Tous des bons profs. Un choix de société », in the presence of Asma Benhenda. The debate, in French, will be held at the Paris School of Economics (auditorium) and on Zoom.
Summary of "Tous des bons profs"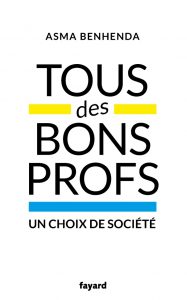 Et si les professeurs n'étaient pas le problème, mais la solution ?
Il est possible de construire une école plus efficace et plus juste en donnant aux enseignants les moyens et conditions de travail à la hauteur de leur rôle dans la construction intellectuelle et citoyenne de leurs élèves.
Les résultats de la recherche en sciences sociales sont unanimes à montrer que les personnes les plus décisives dans l'avenir d'un enfant, après ses parents, ce sont ses enseignants. Leur impact sur les générations futures est le plus grand levier politique pour lutter contre les inégalités sociales.
Pour autant, trop souvent, ce rôle ne se reflète ni dans le débat public, ni dans les décisions politiques. Alors que près de 60% des dépenses éducatives sont consacrées aux enseignants, il est temps de se demander comment les politiques éducatives à leur égard contribuent à la perpétuation alarmante des inégalités scolaires en France.
À rebours des discours réactionnaires et défaitistes, ce livre montre qu'il est possible, avec des politiques publiques volontaristes, de renverser la tendance. Il met à disposition du débat public, ­ parents d'élèves, décideurs politiques, et aussi enseignants eux-mêmes, les tout derniers résultats de la recherche et en tire des pistes innovantes pour que les enseignants puissent enfin contribuer pleinement à la construction d'une école, et d'une société, plus justes.
About the author
Asma Benhenda is a research fellow at the University College London, Centre for Education Policy and Equalising Opportunities
Event details
📚 Asma Benhenda, Tous des bons profs. Un choix de société, Fayard, August 2020.
📅 Wednesday February 2nd, 2022 – 6-7:30 pm (CET)
📍 Paris School of Economics (auditorium) and on Zoom.
🎙 The conference will be held in French